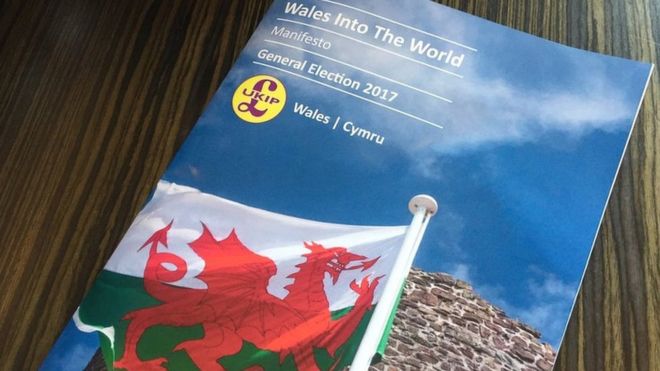 The UKIP manifesto shows evidence of a movement among the membership to reduce what they describe as a Lad Culture in the party. This is clearly an attempt to remove ideas associated with its former leader, Nigel Farage. The split is also illustrated by the contents of the Manifesto issued by the Welsh UKIP party

I will return to the Welsh UKIP Manifesto later. First, the evidence of the split in UKIP from the National document.
The attack on Lad Culture
Several policies seem deliberately opposed to the leadership cult of Faragism. For example, directs its policies against a 'Lad Culture', once much considered part of the Nigel ethos. The party now intends to tackle "lad culture" and to review advertising editorial codes to ensure the media promote healthy body images.
The "lad culture", which treats young women as sex objects and the "red circle of shame" in celebrity magazines that hold women to unattainable levels of physical perfection are just two examples.

Boys too are increasingly developing eating disorders and body image issues.

UKIP will review advertising, broadcast and editorial codes, seeking commitments that editorial coverage and advertising campaigns will treat men and women with dignity and promote healthy body images.

UKIP Manifesto, 2017
In a further dig at beer-loving Nigel Farage, Ukip, when in power, intends to repeal licensing laws. This repeal would  prevent more relaxed opening hours for pubs, clubs and bars.
To protect emergency workers from abuse, we will repeal the 2003 Licensing Act and bring in new legislation to reduce the density of alcohol outlets and restrict trading times.

UKIP Manifesto, 2017
Nikab ban
The manifesto also includes material which is included by Farage supporters. For example, it opposes the wearing of nikab in public by Moslem women, listing the social divisiveness of the practice, but also the real danger of denying the wearers of sunlight (health warning) and of concealing abuse from their husbands.
False News Alert
I wonder whether in all this, I have stumbled upon a fine example of False News. I have not yet completely digested the UKIP manifesto. My source, The Daily Telegraph, may be among the perpetrators of false news.
Or, again, The Telegraph, or UKIP itself may have been victims of a practical joke perpetrated by former writers from Private Eye. The earlier spoof UKIP Manifesto by the Eye listed a range of pledges.  Many may be seen as yet more mockery against an Old Fogey streak in the former Leader's self-branding. This anti-Farage tone is not unlike that to be found in the official document.
1.      Smoking to be allowed in pubs.

2.      Waxed jackets to be made mandatory.

3.      Chaps not obliged to help with the washing up.

4.      VAT on beards.

5.      Massive investment in golf club construction.

6.      Driving gloves to be worn in cars at all times.

7.      Bring back Robertson's Golly on marmalade jars.

8.      Police permitted to give young offenders a clip round the ear.

9.      Black and white TV to return.

10.     Johnny foreigner to get marching orders …. whoops.

Private Eye's Spoof UKIP Manifesto
The Swansea Bay Barrier Manifesto
In Wales, UKIP leader Neil Hamilton has launched its own Manifesto. It tries to be very grown-up, showing that Mr Hamilton has much of the gravitas needed in a strong and stable leader.
It is far more irony-free than the UK UKIP Manifesto, although perhaps there is irony in what seems like a bid for its splitting into a Welsh UKIP. This puts much emphasis on the proposed Swansea Bay barrier, and places Welsh UKIP in direct competition with Welsh Greens and with Plaid Cymru parties for its support of sustainable energy initiatives.
I rest my case with the words from this document:
UKIP promises to be the voice of Welsh farmers and fisherman in the post-Brexit era. The manifesto's pledges on agriculture, which also largely cover areas that are devolved, include a commitment to

install a 200-mile exclusive economic zone under UK control
provide suitable and sustainable funding for farming, financed by savings from leaving the European Union
remove unnecessary EU restrictions that make small local abattoirs unviable
require foreign trawlers to apply for a fishing permit to have access to Welsh waters

On energy, the manifesto says relying on wind-power is "not sensible". It pledges:

an energy mix that is based around proven forms of reliable renewable energy, and to support the tidal lagoon project in Swansea Bay

Welsh UKIP Manifesto
To be continued